Tuesday, February 15, 2005
Gee-Haw-Whammy-Diddle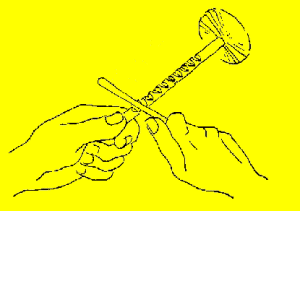 It's a
Gee-Haw-Whammy-Diddle
" is what it is (a.k.a.
Ouija Windmill and Hooey Stick
). A folk toy (and sometimes musical instrument) that is easy enough to make and fun enough to play with and, for those who are in the know, an opportunity to cause significant mystification amongst the uninitiated. Say "hooey" and behold, the propeller spins to the left. Say "hooey" again, and again behold, now it spins to the right. Go ahead, speak to it. Cajole, nay, even beg it. See if you, too, can make it change direction.
I know, this really isn't a classic junkyard sport. But it is of the same spirit. And, in fact, one could argue that the more traditionally junkyard sports like stickball and halfball are both artlike and folkish. Junkyard sports, folk toys, all for fun and fun for all.
For more on American folk toys, see my favorite: Dick Schnacke's
American Folk Toys: How To Make Them