Monday, August 29, 2005
Petanque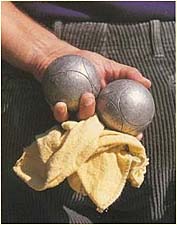 There's
Bocce
and
Boules
, which, as you so well know, are all variations of
Bowls
. But did you also know that there's
Petanque
, which is pretty much the same as Boules, which is only more or less the same as Bocce because you don't really need a special court. And that, my friend, is what makes the game so attractive to us free and playful spirits.
Petanque is a modern version of a game with a very long history. According to the
British Petanque Society
: "Two balls and a jack were unearthed in the sarcophagus of an Egyptian Prince of the 52nd Century B.C. Thus there is archaeological evidence that a form of pétanque was played over seventy centuries ago."
The basic rules
are relatively easy to follow. You throw a little ball (traditionally, wooden), and then you throw bigger balls (steel), trying to land as close as possible to the little one. Should your bigger ball happen to knock one of your opponent's bigger balls away from the little ball, this is also good.
It's one of those games that can be played by anyone who can throw, almost anywhere. Because it has such a long history and so many variations, it's a rich opportunity for you to make up your own. Who's to say you can't play it with, say, marbles, or snowballs even?