Sunday, February 19, 2006
The Connector Chess Set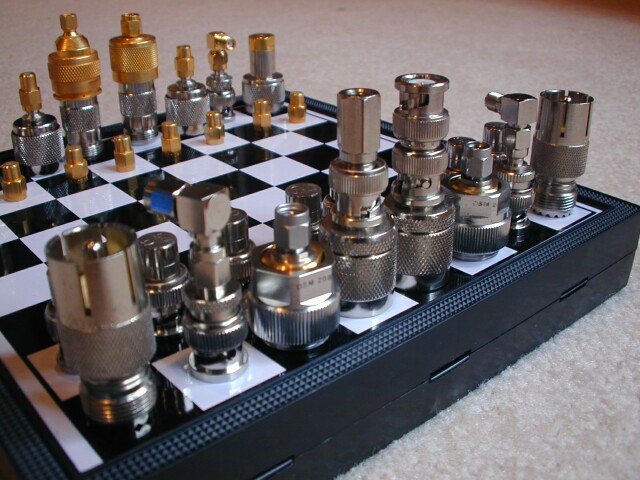 BNC Chess
. Why BNC? The authors explain: "50 ohm BNC, SMA, and N terminators with various BNC, SMA, N, APC7, F, UHF connectors and inter-series adapters; or any other RF connectors you can find around the house. White gets nickel or stainless steel and black gets gold top pieces. p.s. Dad lost the first game."
Aside from the beauty and functionality of the design, and the amazing feat of playfulness required to re-envision the form and function of electronic findings into a chess set, what I like best about this achievement of junkish art is the playful appropriateness of what the inventors named it. The
Connector
Chess Set.
Yes, yes, it's made out of connectors. And they had to find new connections between the connectors in order to make the connection between connectors and chess pieces. But imagine the connections forged when they created the chess set together. Dad lost the first game? When you imagine how deeply connected both father and son became, making this beautiful set together, out of findings. When you think of how wonderfully connected it feels when your son is successful, more successful, even, than you. Well, that's the kind of loss we all should suffer.